Fife Ambassador Chriistopher Trotter takes a look at Fife's seasonal food and drink in his latest quarterly blog.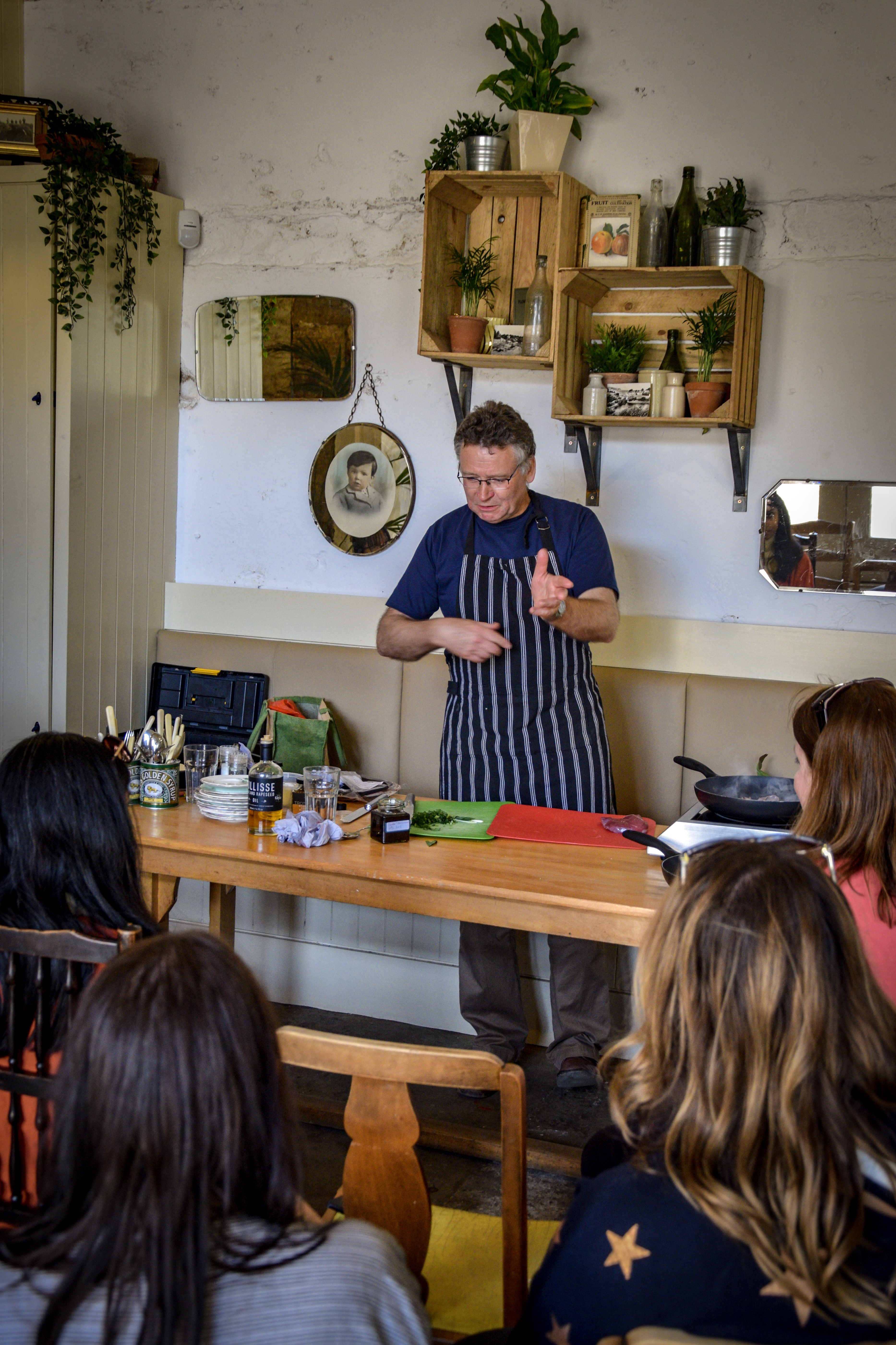 The summer has been well documented as being one of the hottest on record and we've enjoyed glorious day after day of sunshine. The fruit has been particularly good this year, but as we approach the end of summer and into autumn, we still have some wonderful fruits to look for. Thiis year because of the sunshine, the tayberry will have ripened and is well worth seeking out. It's a cross between a blackberry (bramble) and a raspberry and probably my favourite berry fruit. It's not a fruit easy to find as its hard to harvest when unripe so the best way is to pick your own. There are at least two fruit farms in Fife that offer pick your own - Pittormie and Cairnie Fruit Farm.
The wild brambles are fantastic this year as are the rowan berries, a sign in ancient lore that we are to have a hard winter! Pick the rowan berries to make a fantastic jelly to accompany game dishes. Plums, apples and pears are all making an appearance just now. There will be an autumn apple event at Lochore Meadows on October 21st.
Now is the time when most of the vegetables are available in Fife and there are a whole lot of fabulous farms shops which grow and sell direct. Ardross Farm Shop between St Monans and Elie has fabulous vegetables just now and their Sharpes Express potatoes are superb. Pillars of Hercules in Falkland has plenty of great produce and their wonderful salad bags reflect the seasons and are filled with herbs and edible flowers as well as salad leaves. Blacketyside farm shop, which although is mainly a fruit farm, also sources local vegetables and has a wonderful potato variety called "British Queens" and Muddy Boots at Balmalcolm also has a great space for children.
I have focused in previous blogs on a farm shop and a seasonal product, but this quarter I have decided to focus on The Year of Young People which is the VisitScotland theme for this year, and share a brief story of a young person in Fife.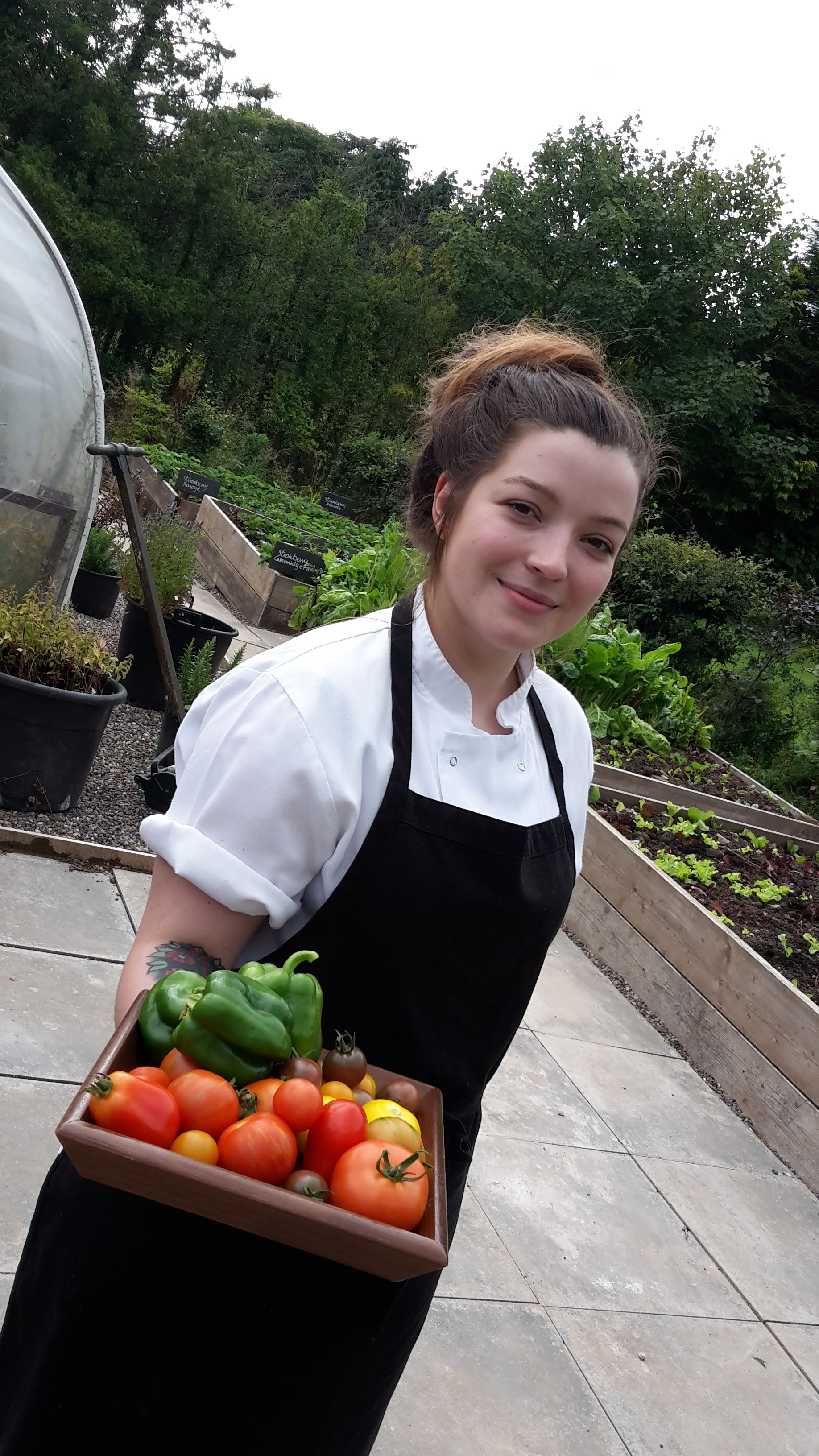 We often hear in catering circles about how difficult it is to attract chefs into the industry because of the unsocial hours and the difficult kitchen environment. Cooking programmes are all about entertainment and never show the sheer hard work which underlines life in a kitchen. I had the good fortune to meet a young lady who works in the kitchens at Rufflets Hotel , a place I have known for many years having run the kitchens for a month when they were in between chefs. But that was a while ago! Mary McGlashan is a credit to her generation. She is a local girl, hailing from Cupar where she lives with her family and embarked on a art history degree (combined with philosophy) but realised after six months that it was not for her. After a few part-time jobs she landed a kitchen porter job ( washing dishes) at Rufflets under the watchful eye of David Kinnes the head chef. She found the Rufflets kitchens a friendly, happy place and asked lots of questions of the chefs who were all willing to share their knowledge. Eventually she asked the chef if she could move into the kitchen which she duly did. She started in the "Larder" where all the cold prep is done and has since progressed to the pastry section, and is doing very well. Rufflets revamped its restaurant "Seasons" earlier this year and have really focused on produce from their gardens and when I was there I found Mary picking tomatoes and strawberries for that evening's menu. It was great to meet a young person who really felt that she had found what she wanted to do, fully aware of the long hours, but her artistic side was given free rein to express herself. We agreed that cooking is where art and science meet! You need an understanding of how things cook but also an awareness of the visual and textural world in cooking and food. She enjoyed the camaraderie and structure and necessary order of a professional kitchen. Credit must go to David Kinnes for giving her a chance and also good fortune for her to land in a quality establishment. A great story and one that makes me proud to live and work in Fife, where there is a place for everyone. I will watch her career with interest.
My recipe this quarter is for tomatoes, from my forth coming new book "Tomato" out in October.
Ingredients:
Potatoes, red onions and tomatoes
A very simple dish combining the wonderful potato with colourful onions and tomatoes, this can cook slowly and gently to provide a luscious base for fish such as mackerel or chicken
1.5 kg small potatoes – maris piper are perfect or Highland red Burgundy for colour
75 ml "Gift of oil" basil olive oil
1 clove garlic crushed with salt
1 red onion cut into wedges
8 tomatoes cut in quarters
Sea salt and freshly ground black pepper
Fresh basil leaves
Tsp "Gift of oil" sundried tomato balsamic vinegar
Method:
1 preheat the oven to 170C gas 3
2 Slice the potatoes thinly and rinse in water, drain and pat dry
3 Mix them with oil and garlic, season lightly and pour into a large ovenproof dish and flatten down.
4 Push the tomatoes and onion pieces in between the potatoes so that it's even and colourful. Cover with a lid or greaseproof paper and cook for 45 minutes remove the lid raise the temperature to 200C gas 6 and sprinkle over the balsamic cook for a further 10 minutes.
Hope you enjoy!
Christopher Trotter